Solid refractive installation «OLIMP 2000/213» for laser vision correction surgery with advanced surgical capabilities.
Types of surgery made

:
PRK, MAGEK, LASIK, Epi-LASIK, phototherapeutic keratectomy

Myopia up to -15 diopters

Hypermetropia up to +6 diopters

Astigmatism up to 6 diopters

Tissue saving ablation

Personalized ablation
Performing rear sclera trephination

Marking the surface scleral flap

Removing (evaporation) of deep sclera layers and the outer wall of the Schlemm's canal

Scleral bed treatment ("polishing")

The possibility of customizing the ablation algorithms
Source of radiation
Wavelength
Pulse duration
Pulse generation frequency
Transverse profile of energy distribution
Laser beam in focus diameter
The maximum output laser energy
Forming system
Ablation zone diameter
Reaching operating mode
Time of continuous operation
Weight
External dimensions (l×w×h)
Laser cooling system
Power supply voltage
Power consumption
Service life
Nd:YAG
213 nm
10 nsec
300 Hz
Gaussian, TEMoo
0.5 mm
1 mJ
"flying" spot
to 20 mm
30 min
12 hours
160 kg
800 mm×1,000 mm×1,200 mm
liquid-filled, heat stabilized
220-240 V, 50-60 Hz
0.9 kWh
at least 10 years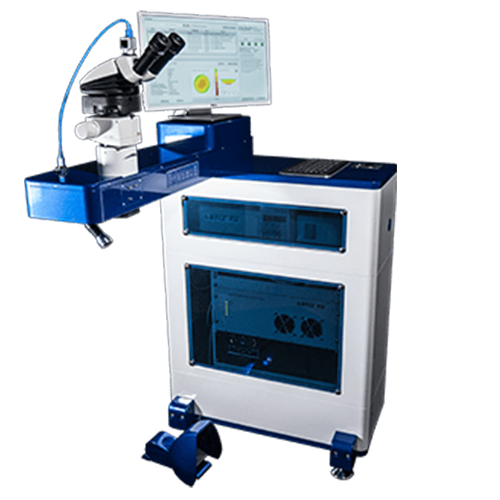 Consumables
Consumables include the purified distilled water (GOST 6709-72) for the cooling system, and the special photo paper for calibration tests.

Commissioning and technical and medical personnel training is performed by certified professionals. The customer's doctors may be trained at the branches of the A. Tikhov's Eye Laser Microsurgery Clinic (in Yaroslavl and Cherepovets) with issuing a certificate of the Faculty of Additional Post-Graduate Education of the Yaroslavl State Medical University.
Our experts provide technical support throughout the entire service life of the installation.
The warranty period is 3 years.
Registration certificate №ФСР2010/08230
The patent for useful model №106837